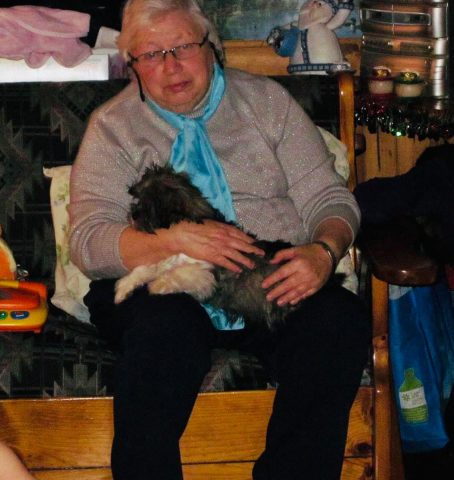 Sharon Thomson, Sandi Willard and Terry Geuder, sadly announce the passing of their mother Peggy Geuder Saturday May 1, 2021.  She can now rest peacefully until Jesus calls her name.  We look forward to that day with all our hearts.
In the interest of the health and safety of our members, we are continuing to offer our weekly services on our Facebook Page as well as archived on our website.  However, we have been able to reopen Sabbath School classes for the kids divisions.  These are running 9:30-10:30.  There is also an outdoor Lesson Study for the parents.
If you are interested in attending, we need you to pre-register.  You can do so by clicking here.
Bring a mask for anyone 12+ (yes, even though we are social distancing outside).
Sadly we cannot get together before or after for visiting.  If you would like to spend some visiting time together, current guidelines suggest that going on a walk or a hike are not considered a social gathering, and thus are allowed under the current order.
Please self-screen before you come.  We're here to share the gospel, not germs.
To comply with the current health rules (which can be found here):
Remember, this is a great opportunity for our kids to get together and to learn about God's love.  Please do not endanger this freedom by taking the rest of the guidelines lightly.
The BC Conference has given us the opportunity to receive 5:1 matching funds for all we raise for the school up to $25,000.  This means, if we can raise $25,000, we receive $125,000.  The is great news and completely doable for a community like us.  To donate, either contact Stacy at the school, or on your tithe envelope write Peace Christian School.  The deadline for raising this money is June 30.  Let's do this together!
Speaking of prayer and revival, you're invited to join the BC Conference for a special Prayer and Revival Virtual Weekend May 7&8!

If you're interested, join with Zoom ID: 912 2801 6867, password 'prayer'.

 
The New Sabbath School Quarterlies are here!  If you would like one, they are sitting in the arctic entry at Peace Christian School.  If you cannot get out to the school, please contact Pastor D and he can help one find its way to you.
Virtual Camp Meeting 2021: Joy in the Journey
Due to the uncertainty surrounding COVID-19, the BC Conference Board of Directors voted to hold a virtual Camp Meeting again this year. We are looking forward to the day when we can meet face to face. Until then, we are thankful for technology that allows our meetings to proceed in a different form. Virtual Camp Meeting will be held over four days online, Wednesday to Sabbath, July 28-31, 2021. Details to follow.
Camp Meeting Reservations:
All 2021 Camp Meeting registrations will automatically be rolled over to 2022. If you do not wish to forward your registration to 2022, please send us an email at campmeeting@bcadventist.ca to request a cancel and refund. However, please note that once you cancel your 2021 Camp Meeting registration, the site will be released permanently and given to anyone who is looking for a site for next year's camp meeting on a first-come, first-serve basis.
The church has voted to suspend the nominating committee process for this year and continue with our current list of leaders for the next calendar year.  If you are interested in stepping up and helping out in a certain role, contact Pastor D.  It is a perfect year to try something new out!
The offering this coming Sabbath is for Disaster and Famine Relief.  Click here to give online!
Thank you for your support in paying for our church renovations!  Thanks to your kindness, the new reno's are fully paid for.  If you would like to continue giving to the church building fund to help pay off our new classrooms and gym (and by proxy, a permanent church space), please mark your tithe envelopes 'Loan Payment'.
This coming Sabbath, regardless of your team, we would be thrilled to welcome you to our service on the Chetwynd Seventh-day Adventist Church Facebook page.
If anybody is interested in doing a children's story, either live or pre-recorded, please contact Linda Berezowski or Dawn Astleford.  Likewise, if you would like to do a special music, please contact Pastor D.
Are you ready to go get yourself some Post Secondary Christian education?  Consider Burman University!
If you missed church this week, then we missed you, but you don't have to miss out.  Check out The Weekly Word to catch up on anything you missed!
Please note, that due to a glitch in the website, everything in church calendar is actually posted 2 hours early.  While being here 2 hours early will ensure that you have a good spot, it may not necessarily be the most fulfilling use of your time.