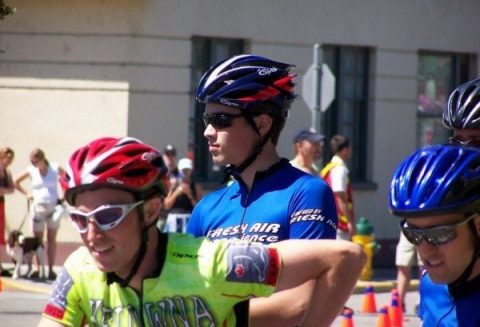 I wonder how many times as we've thought about somebody else, that we've felt just a little bit better about ourselves.  Come to think of it, I wonder how many times we've thought about somebody else at all.  But you know how it is, "Man, Billy Bob has sure made some rough choices in their lives.  I'm glad I had the good sense to steer clear of that stuff."
It's nice to feel smart.  It feels good to feel clever.  And for what it's worth, I think that if we notice someone who has done well, it might be worth a compliment!  Because too often, as we long to feel better about ourselves, we seem to think that the only way to do that, is to put someone else down.  I think all of us have at one time or another in our lives, perceived somebody else to be our rival.
When I was a teenager racing bicycles, there was one kid who I saw as my primary rival.  Jesse.  I couldn't handle the guy.  Of course, he was pretty much in a league of his own, winning race after race after race, so I sincerely doubt he ever saw me as any kind of rival.  But he was a direct obstacle to one of my major life goals at the time… climbing the ladder of cycling success.  When I'd be out training by myself, I would often envision a race scenario.  There I was, the last of a breakaway on a high mountain stage in the Tour de France being chased down by the major GC contenders.  Lance Armstrong, Ivan Basso, Levi Leipheimer, and of course, Jesse.
Harder and harder I would go, trying to get to the top of the climb before getting caught by the bunch.  It usually came down to a mountaintop sprint, or one final attack, and often I'd come away the champion.  But that was my imagination.  Reality was almost always different.
I did beat him though in real life.  Twice.  Once on the Ski to Sea - a relay race involving downhill skiing, cross country skiing, mountain biking, road biking, running, and canoeing/kayaking.  Racing on a team, my leg of the race was faster than Jesse's time on that stage.  Huge victory… except that he was doing the entire race on his own, while I was racing on a team.
The other time I beat him was on a hillclimb in what I think was called the Fresh Air Classic.  That was a special one.  I had mono.  He had a broken collarbone.  We both still raced.  I guess I was less dead.
The thing about rivals though, is that they often get de-humanized.  It's easy to hate a rival.  To project all sorts of unpleasant qualities upon them.  To make excuses as to why you lost.  To make everything a competition.  Yes, Jesse was from a family with money.  Yes, he could go to all the races across the province and earn opportunities I couldn't even dream of.  No doubt he had a lot of things going for him.  But I had a lot going for me too.  A super supportive mom who gave everything she had to help me enjoy my dream.  Secret-weapon genetics from my olympic champion great grandma.  A supportive team and a ton of drive.  But a lot of times it was far easier to make excuses than it was to simply enjoy the ride.
I think that's one of the biggest obstacles that gets in the way of a joy-filled life.  We constantly compare ourselves to those around us.  Now in some ways, that's a good thing.  It inspires us to improve, and to continue to reach new heights.  But the way we tend to do it is about as healthy as dipping a jelly donut in a milkshake.  We obsess about others.  We unknowingly make it our life goal to bring them down.  We take every opportunity to make sure those around us know all the places our rival has failed.  And by doing that, we make ourselves look more important.  More competent.  Smarter.  Better looking.  Or something like that anyway.  But it always leaves us empty, because no matter how low we push our rivals, we've unknowingly given them the key to our value.  Our worth is fundamentally linked to theirs.
Here's the secret.  Catch this.  Your worth has nothing at all to do with your rival.  In fact, your worth has nothing at all to do with yourself either.  Your worth comes from the fact that while you were still a sinner, the Godhead loved you so much that Jesus volunteered Himself to come and die for you.  Jesus took on your sin, so that you could take on His righteousness.
Paul talks about it this way.  He said, "All these things that were gain to me, are nothing but loss for Jesus.  Yet I also count everything as a loss because of the surpassing worth of knowing Christ Jesus my Lord.  I consider all those things as skubalon, that I may gain Jesus and be found in Jesus.  I have absolutely no righteousness earned from following the law.  Only righteousness that comes through my faith in my friend and King Jesus." (Philippians 3:7-9 - PDV).
Skubalon is not a word you see everyday because it's the original Greek word that's used there.  Typically translated as 'rubbish' or 'worthless trash' because the truest translation would probably offend people who buy Bibles.  If you really want to know what Paul thought of His accomplishments compared to having his true value found in Jesus read on.  Skubalon is a combination of two Greek words.  'Dog' and 'throw'.  In other words, Paul felt that compared to the incalculable wonder of a life in Jesus, that his worth coming from his own accomplishments and advantages were about as valuable and attractive as a dog's breakfast (the second time).
I kept on racing my bike as the years went by.  After a season of complete burnout, I had rediscovered the joy in just riding for fun.  Enjoying the sensations, the speed, and the friendships that the sport provided.  I was surprised that spring to find a new teammate on our roster.  It was Jesse.  We'd both grown up a bit, and that season, which would turn out to be my last, I found deep satisfaction and enjoyment out of occasionally racing for the win on the occasion that the race suited my strengths, and when it suited his (almost always), working hard on the front to chase down the breakaways and lead him to the finish line in the best position possible.  It was by far, my best year.  As I was getting older, I was also growing in my walk with Jesus - finding my worth in Him, spending deep and quality time with Him, and as a result, just enjoying all the rest of life so much deeper.  I was no longer 'Donny the Bike Racer.'  I was 'Donny the child of God (who races bikes)', and to me, it made all the difference.
So today, if you're finding there's a particular thorn in your flesh, if somebody is pressing all your buttons and your blood pressure is starting to flare like a gas well, I encourage you to take the focus off of yourself.  Stop looking in the mirror.  Turn your eyes upon Jesus and just bask, every day, in the light of His glory and grace.  The skubalon of life will grow strangely dim as His grace and love begin to fill you, saturate you, and overflow from you to color and to change the entire world all around you.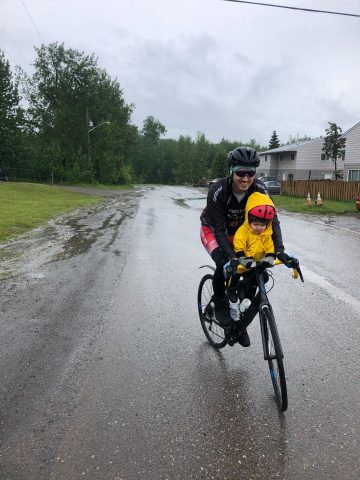 _________
PDV - Pastor Donny's Version